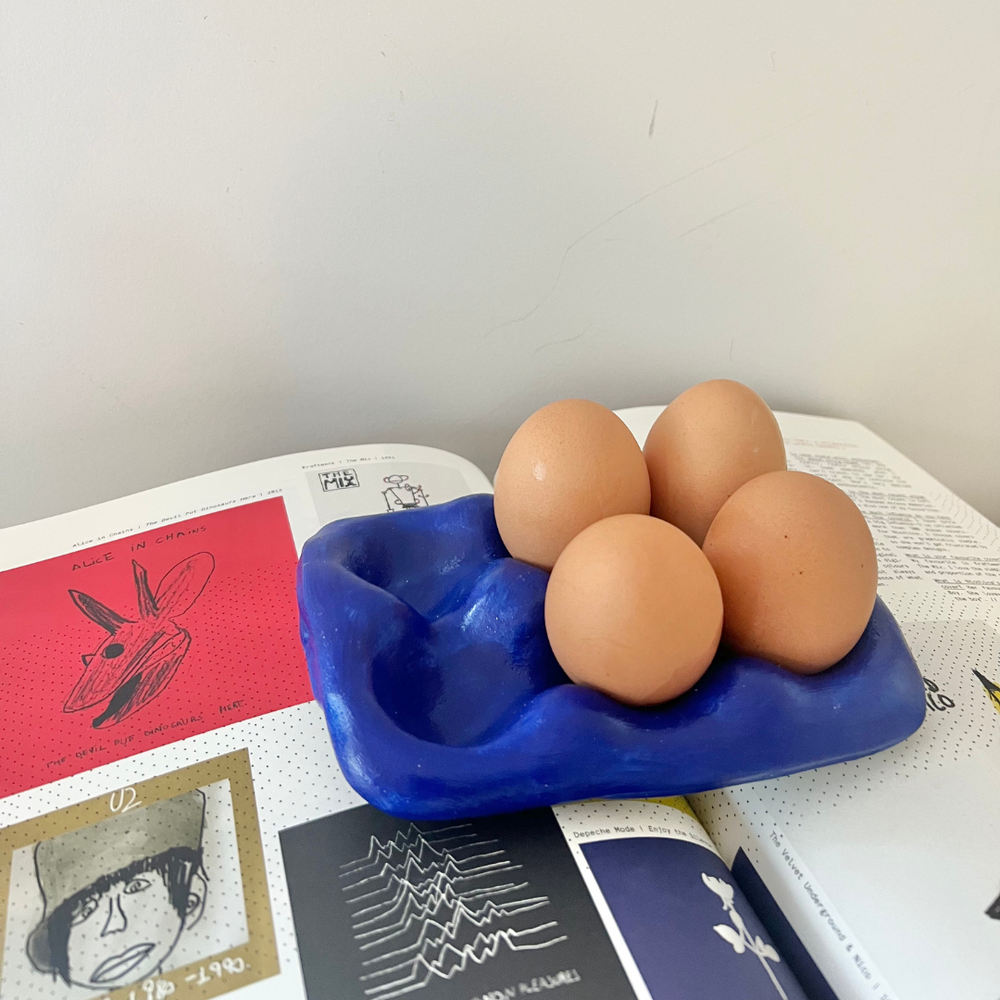 Check out our reel on instagram to see a video of this one in the making.
Before you get your hands messy:

Put on your favourite record or Spotify playlist (@modeletto.store for some of our tunes).

- Grab a chopping board to work on and a small bowl of water.
- Rolling pin
- Egg carton (cut in half)
- Get your clay pouch + tools ready

Whenever we mention:

- Score: use your pointy tool to etch small lines into each surface to be joined.

- Slip: dip your finger in the water and apply a little amount to your scored lines.

Pottery kit used in this tutorial here. 
1. For a small tray like the one pictured here, use half a pack of your clay. Snap it in half and put one half back in the pack and seal it up to keep it moist.

2. Roll out the clay with a rolling pin until it's about ¼ to ½ inch thick. Cut the clay into the desired shape using your knife.

3. Place your rolled out slab on top of your egg carton and tap the carton on the table so that the slab sinks into the curved bits. 

4. Use your fingers and sponge to shape and smooth the clay into the egg tray form, making sure to create shallow indentations to hold the eggs.

5: Dry the tray Allow the clay to dry partially but not completely (for a day). This is known as the "leather-hard" stage. Then remove the carton. Leave your tray to dry for a week.

7.  Paint it with 2 coats of paint and 2 coats of sealer. Leave each layer to dry in between.

NB: This tray is not water safe, so do not put it in the fridge, so if you'd like to put yours in the fridge, you'll need to get your tray fired in a professional kiln. Head to our FAQ page for firing instructions. 

We'd love your help with our purpose to introduce more play into everyone's day. Share your kit, creation process, or finished shape on your stories or feed - tag @modeletto.store, so we can re-share.